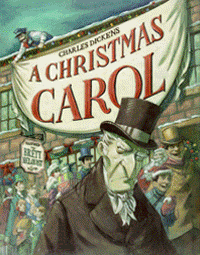 A Christmas Carol, by Charles Dickens, illustrated by Brett Helquist, HarperCollins, $17.99, age 4-8. Helquist makes you feel every scowl, and look of regret and glee that passes over Scrooge's face in this wonderful picture book adaption of Dicken's classic about a miser who is taught the meaning of Christmas by spirits of the past, present and future. Helquist is the illustrator of Lemony Snicket's A Series of Unfortunate Events.
Blueberry Girl, written by Neil Gaiman, illustrated by Charles Vess, HarperCollins, $17.99, ages 4-8. Gaiman's words float off the page in this enchanting New Age prayer. The author of Coraline asks the "ladies of light and ladies of darkness and ladies of never-you-mind" to guide the world's girls to be wise and safe, bold and brave. Don't miss Gaiman's magical recitation in the trailer below!
Naked Mole Rat Gets Dressed, written and illustrated by Mo Willems, Hyperion Books for Children, $16.99, ages 3 and up. When a buck-toothed mole rat named Wilbur defies convention and puts on clothes, other bare-skinned members of his species rat him out to wise old grandpa in this delightfully goofy story about striking out on your own by a three-time Caldecott Honor author-illustrator.
Leon and the Place Between, by Angela McAllister, illustrated by Grahame Baker-Smith, Templar Books, $16.99, ages 4-8, 48 pages. A venturous boy leaps into a box where magic is kept and discovers a wondrous world of flying carpets, shadow puppets and fantastical tricks in this mesmerizing book about the power of believing. Illustrator Baker-Smith, who also designed the covers of Robert Plant's albums Mighty Rearranger and Nine Lives, works magic on the page.
Bridget Fidget and the Most Perfect Pet, by Joe Berger, Penguin Young Readers Group, $16.99. ages 3-5. Hearing the doorbell ring, a lovable little fireball named Bridget races downstairs and rips open a box she assumes is a unicorn or a penguin or some other grand pet in this sparkling debut about the thrill of getting a package, even when it's small. Bridget's exuberance is infectious and will delight fans of Ian Falconer's Olivia.
Robot Zot!, by Jon Scieszka, illustrated by David Shannon, Simon & Schuster, $17.99, ages 3-7, 40 pages. A brash little robot with uneven teeth invades a suburban kitchen, blows up appliances, then falls in love with a cell phone toy in this wildly silly book by a Caldecott Honor-winning author. (Watch this spring for Scieszka's new chapter books series, Spaceheadz, about aliens who invade earth.)
Billy Twitters and His Blue Whale Problem, by Mac Barnett, illustrated by Adam Rex, Hyperion Books for Children, $16.99, ages 4-8. As punishment for ignoring his parents, Billy is saddled with a blue whale as long as a block and is shunned by classmates who think the whale dampens their fun in this imaginative story about making the most of a bad situation. (Barnett is also the author of the wonderful new detective series The Brixton Brothers for ages 9-12.)
Princess Hyacinth (The Surprising Tale of a Girl Who Floated), Schwartz & Wade, by Florence Parry Heide, illustrated by Lane Smith, $17.99, ages 4-8. Tired of wearing pebbles in her socks and other contrivances to keep her from floating away, a lightweight princess pulls off the heavy garb she's been forced to wear and ties a balloon to her ankle, only to find herself rising too high in the sky in this charming story by the author of The Shrinking of Treehorn.
The King of Quizzical Island, by Gordon Snell, illustrated by David McKee, Candlewick Press, $16.99, ages 4-8. A king sets sail for the edge of the world and finds himself in a topsy turvy land of jigsaw pieces, going over a vertical river and being tossed into a sea of nightmares, before being washed ashore at his own backdoor in this fanciful story that bounces along like a poem by Eugene Fields.
The Odd Egg, written and illustrated by Emily Gravett, Simon & Schuster, $15.99, ages 4-8, 32 pages. Seeing other birds laying eggs, a drake tracks down a giant, green-speckled egg of his own, only to be razzed for having such an odd egg until a baby alligator hatches out and scares the birds off the page in this delightful tale by the author of Little Mouse's Big Book of Fears.