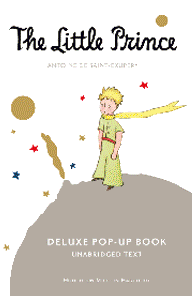 The Little Prince: Deluxe Pop-Up Book, by Antoine de Saint-Exupery, Houghton Mifflin, $35, ages 9-12, 64 pages. Saint-Exupery's artwork leaps off the page in this pop-up edition of his 1943 fantasy about a pilot who rediscovers his sense of wonder after being marooned in the Sahara with a planet-hopping prince. Swiveling scenes and 3-D fold-outs make this unabridged edition the perfect introduction to a classic. (Watch a book trailer below!)
Alice in Wonderland, by Lewis Carroll, illustrated by Oleg Lipchenko, Tundra Books, $22.95, ages 9-12, 104 pages. In this gorgeous new edition of the Lewis Carroll classic, master draftsman Lipchenko accentuates the dreamy world inside the rabbit hole with a yellowish atmosphere and detailed lead and brown pencil sketches that meander around the text. Major scenes are framed by elaborate drawings that have the feel of picture searches.
Miguel de Cervantes Don Quixote, retold by Martin Jenkins, illustrated by Chris Riddell, Candlewick Press, $27.99, ages 9-12, 352 pages. Jenkins' flair for storytelling and Riddell's exquisite drawings make this classic tale of the deluded old Spaniard who thinks he's a knight errant more accessible than ever. Barely a page goes by without a finely penned caricature, whether it's a knobby-kneed Quixote leaping in the air or the wild-haired Spaniard brandishing his sword against crazed cats.
Treasure Island, by Robert Louis Stevenson, illustrated by John Lawrence, Candlewick Press. $24.99, ages 9-12, 272 pages. Lawrence's woodcut prints look as if they were engraved from the rustic, wide planks of a pirate ship and aged in the salty sea air in this handsome unabridged edition of Stevenson's swashbuckling adventure, in which a young Jack Hawkins sets sail with the cunning mutineer Long John Silver in search of buried gold.
Goldilocks and the Three Bears, Hyperion Books, written by Lauren Child, photographed by Polly Borland, set created by Emily L. Jenkins, Hyperion Books, 16.99, 44 pages. Child, the creator of the wildly popular Charlie and Lola series, brings her childlike sensibility to this enchanting edition of the timeless fairy tale about a girl with curly hair who snoops through the cottage of three bears. Photographic stills of a doll with ringlets and three stuffed bears beautifully mimic the way a child would act out the story.
The Lion, the Witch and The Wardrobe: A Celebration of the First Edition, written by C.S. Lewis, with interior art by Pauline Baynes, Harper, $20, ages 8 and up, 173 pages. Looking almost exactly as it did when it was first published in 1950, this wonderful reproduction of the classic story of four siblings who discover a strange, snowy wood in a wardrobe inside their uncle's house contains text and images from the first edition, and the classic cover of Lucy and Susan riding Aslan.
The Seeing Stick, by Jane Yolen, illustrated by Daniela Terrazzini, Running Press, $16.95, 4-8, 34 pages. Terrazzini's luminous artwork makes this new edition of Yolen's classic tale feel like a story debut. In this touching tale, a wise old man teaches the blind daughter of a Chinese emperor to "see" with her fingers, hands and heart after her father desperately searches for someone to give her sight.
The Man Who Lost His Head, written by Claire Huchet Bishop, illustrated by Robert McCloskey, The New York Review Children's Collection, $14.95, ages 4-8, 64 pages. When a man wakes up one morning without his noggin, he tries to make due with a jack-o-lantern, a parsnip then a wooden head until a run-in with a tiger forces a brash solution in this reissued parable, out of print for more than 25 years.
Little Blue and Little Yellow, by Leo Lionni, Alfred A. Knopf, ages 2-5, 48 pages. Two circles of color, one blue and one yellow, do everything together until one day they lose track of each other. After rolling around, they finally find each other and hug so hard they blend into the color green in this adorable classic reissued on its 50th anniversary. Learn about the train trip that inspired the story in an author's note.
Brisingr Deluxe Edition (Inheritance Book Three), by Christopher Paolini, Alfred A. Knopf $29.99, young adult, 800 pages. A must for fans of the best-selling Inheritance Cycle series, this hefty collector's edition of the third book about dragon rider Eragon's quest to right wrongs in Alagaesia includes deleted scenes, an exclusive foldout poster of Lethrblaka, artwork never before published and a guide to dwarf runes.