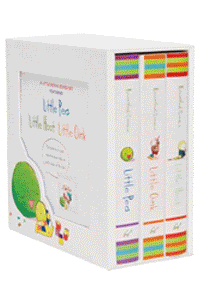 A Little Books Boxed Set Featuring Little Pea, Little Hoot, Little Oink, by Amy Krouse Rosenthal, illustrated by Jen Corace, Chronicle Books, $19.99, ages 4-8. Three adorable stories about the challenges of being little are reproduced as small board books and packaged in a box with windows for photographs. Meet a pea who prefers spinach to candy, an owl who would rather sleep than stay up late, and a pig who wants to clean up instead of make a mess.
Jan Brett's Snowy Treasury, written and illustrated by Jan Brett, Penguin Young Readers Group, $29.99, ages 4-8. Brett's most beloved titles, Gingerbread Baby, The Mitten, The Hat and The Three Snow Bears, are packaged in their original size in this enchanting collection that's sure to have children climbing into laps for a marathon read-through. (Afterward, visit Brett's wonderful website of crafts listed in my favorite links.)
Creature ABC and Creature 4 Floor Puzzles, by Andrew Zuckerman, Chronicle Books, $19.99 (book), $24.95 (puzzle set), ages 4-8. Award-winning Zuckerman captures the whimsical expressions of animals in minimalist, ultra-high resolution photographs in two stunning editions: an ABC book and a box of double-sided, 2-foot-square puzzles. The creatures are so cute, your child will wish they could hug them on the page. (View a video of Zuckerman photographing animals below!)
Little Mouse Gets Ready, by Jeff Smith, Toon Books, $12.95, ages 4-8, 32 pages. A bouncy little mouse gets the hang of snaps, buttons and even a tail hole as he hurries to get dressed for a day of play in this charming early reader by Eisner Award-winning cartoonist Jeff Smith, author of the wildly popular graphic novel series Bone. (This is a great companion to Toon Book's 2008 release Jack and the Box by Art Spiegelman.)
Max Spaniel Dinosaur Hunt, written and illustrated by David Catrow, Orchard Books, $6.99, ages 4-8, 40 pages. A lovably goofy spaniel named Max goes on a hunt for dinosaurs and ends up building his own inventive replica in this hysterical early reader by award-winning cartoonist Catrow, the illustrator of Plantzilla by Jerdine Nolen.
Mercy Watson: Something Wonky This Way Comes, written by Kate DiCamillo, illustrated by Chris Van Dusen, Candlewick Press, $12.99, ages 4-8. Mercy, the porcine wonder, sets off on a hilarious chase through the drive-in theater, after leaping snout-first out of Mr. and Mrs. Watson convertible in pursuit of popcorn with real butter in Book 6 of this wonderful series.
Emmaline and the Bunny, written and illustrated by Katherine Hannigan, Greenwillow Books, ages 9-12. $14.99, 112 pages. Emmaline loves to stomp in puddles and shout silly phrases, and more than anything wants a bunny, but in the town of Neatasapin, messes are frowned upon, until one day a wild bunny come along that changes everything in this delightful book by the author of Ida B.
Jacob Two-Two on the High Seas, based on the character created by Mordecai Richler, by Cary Fagan, illustrated by Dusan Petricic, $10.95, ages 8-12, pages 112. Award-winning Fagan brings back the pint-size star of Richter's celebrated series Jacob Two-Two in a swashbuckling adventure filled with silly pirates, acrobatic brothers, a cookie-loving giant and a friend with a treasure in her pocket.
Ottoline Goes to School, written and illustrated by Chris Riddell, HarperCollins, $10.99, ages 9-12, 176 pages. Whimsical ink drawings abound in Riddell's second book about super-sleuth Ottoline Brown and her hairy monster friend Monroe, as they investigate a mysterious curse that haunts a school for "differently gifted" kids.
Book 4, Water, Water Everywhere (Sluggers), Simon & Schuster, written by Phil Bildner, illustrated by Loren Long, $14.99, ages 9-12, 272 pages. An evil chancellor closes in on Griffith, Graham, Ruby and their magical baseball as they barnstorm around the country with The Travelin' Nine baseball team, raising money to pay off debt in the fifth installment of this suspenseful series set in 1899.