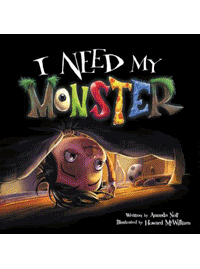 Witches, spiders and monsters, oh my! With Halloween quickly approaching, I've compiled a list of 13 great picture books about things that cackle, creep or go bump in the dark.
1) I Need My Monster, by Amanda Noll, illustrated by Howard McWilliam, Flash Light Press, 2009. Nothing lulls Ethan to sleep like a scary monster under his bed, but when his drooling monster Gabe takes off for the night, Ethan is desperate to find a creature scary enough to keep him in bed and auditions substitute beasts who are too silly or mellow to take his place.
2) The Nightmare Before Christmas, story and pictures by Tim Burton, Disney Press, 1993. In the poem that inspired Burton's movie classic, Jack Skellington grows bored of the terrors in Halloweenland, stumbles upon a portal in a tree to Christmas Town and kidnaps Santa so he can spread his own version of laughter and cheer in a sleek coffin sleigh.
3) Vunce Upon a Time, by J. otto Seibold and Siobhan Vivian, Chronicle Books, 2008. Dagmar the vampire would rather eat carrots than blood, but when he learns candy is being given away in town for Halloween, he can't resist getting in on the treats and thinks up a scary garlic costume to wear, only to realize he doesn't need a disguise at all.
4) Room on the Broom, by Julia Donaldson, illustrations by Axel Scheffler, Dial, 2001. In this perfect read-aloud that kids will want to recite from heart, a cat, dog, parrot and frog are invited for a ride on a witch's broom after each recover something she lost, then band together to scare off a dragon who decides, just this time, "to eat witch without fries."
5) The Spider and the Fly, by Mary Howitt, illustrated by Tony DiTerlizzi, Simon & Schuster for Young Readers, 2002. DiTerlizzi's transforms this classic poem with black-and-white illustrations that almost glow, pages of text that look like intertitles in a silent film and whimsical characters that lure you in, from a fly in flapper dress and parasol to a spider resembling the late actor Vincent Price.
6) Thelonius Monster's Sky-High Fly Pie, by Judy Sierra, illustrated by Edward Koren, Alfred A. Knopf, 2006. A monster decides that flies would taste best in a pie and with the advice of a spider, pours a jar of flies onto a sticky molasses crust and invites his most disgusting friends and relations over for a slice in this hysterical book made all the better by New Yorker columnist Koren's scribbly style.
7) Winnie the Witch, by Valerie Thomas, illustrated by Korky Paul, HarperCollins Publishers, 1987. Winnie the Witch keeps tripping over her black cat Wilbur because everything in her house is decorated in black, but when she casts a spells to turn Wilbur different colors it only makes matters worse, so she comes up with a plan that will make both of their lives more colorful.
8) The Wizard, by Jack Prelutsky, illustrated by Brandon Dorman, Greenwillow Books, 2007. A wizard works his evil spells to turn a frog into a flea, two mice, a cockatoo, chalk, a bell then back into its original form, only to make it vanish into a cloud of smoke in this magically illustrated version of Prelutsky's 1976 poem.
9) The Monster Trap, illustrated by Dean Morrissey, written by Morrissey and Stephen Krensky, HarperCollins Publishers, 2004. While staying over at his grandpa's for the first time, Paddy thinks he hears monsters in the night so his grandpa builds an elaborate monster trap from antiques in his shop that's so fun it works in this beautifully illustrated book.
10) Bone Soup, written and illustrated by Cambria Evans, Houghton Mifflin Company, 2008. A hungry skeleton tricks a village of witches, mummies and zombies into sharing their stash of foul foods in this hilarious spinoff of the old French tale Stone Soup. (See my full review in September listings.)
11) The Gargoyle on the Roof, by Jack Prelutsky, illustrated by Peter Sis, Greenwillow Books, 1999. In this collection of 17 ghoulishly fun poems, a troll is so desperate for company he sets up a toll-free number for someone to call him, a bugaboo lies in wait in the refrigerator to snatch children if they misbehave and a vampire tries to groom himself though his mirror shows no reflection.
12) Bats at the Beach and its sequel Bats at the Library, written and illustrated by Brian Lies, Houghton Mifflin. 2007, 2008. Bats find adventure in the night in these entrancing books: first on the beach roasting bugs on a fire and flying each other as kites, then in a library duplicating themselves in copy machines and playing house in a pop-up book.
13) The Ghosts of Luckless Gulch, written by Anne Isaacs, illustrated by Dan Santat, Atheneum Books for Young Readers, 2008. A fleet-footed girl named Estrella chases after a gang of ghosts who've stolen her pets, and after a harrowing underground rock slide, drives them out of sight, in this larger-than-life tale.